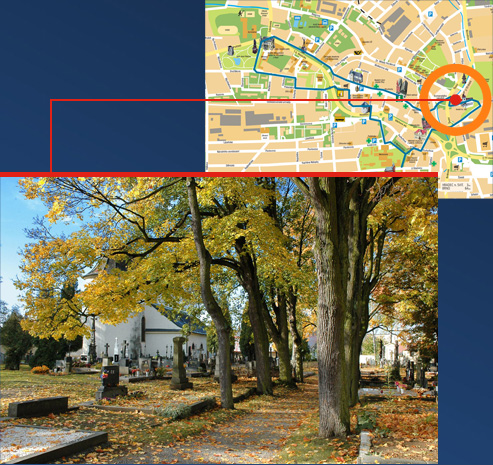 10
Town cemetery
The town cemetery in Svitavy was established along the Church of St. Illya in the year 1576. Besides the Baroque Church of St. Illya the oldest structure on the cemetery grounds is the ossuary from 1646 with a commemorative plaque concerning its consecration.
Through the centuries the cemetery was expanded a number of times, specifically in 1789, 1847, and 1892. The majority of artistically valuable structures and tombstones are concentrated in the so-called "old cemetery" around the Church of St. Illya, the central cemetery crucifix, and ending at the main access path from 5. Května Street. Many tombstones are also located along the stone wall surrounding the cemetery.
The oldest tombstone in the cemetery is the Renaissance tablet of Gregorio Palma from 1585 found in the wall opposite the entrance to the Church of St. Illya. Nearby is the Tempes tablet from the beginning of the 18th century. Tombstones slabs of the families of town mayors and Werner hereditary postmasters are attached to the cemetery walls; nearby are the family tombs of the Langers and Ottendorfers. Kateřina Ottendorferová, the mother of the Svitavy patron, is buried here. The central cemetery crucifix from the prominent Jaich family is a valuable artistic monument from 1847. Located around the crucifix are the tombs of mayors and other important town individuals such as Budig, Tempes, and Schuster. Several mass graves from 20th century conflicts are located near the main crucifix. The bronze commemorative crucifix from 1994 symbolizes the tragic days of May 1945 when victims of the Second World War were buried here. The grave was exhumed in 2000. The most beautiful tombs in the cemetery – the family tombs of Julio Langer and Hugo Albrecht - are situated on the other side of the Neo-Classicist fountain from 1890. These are still in the oldest part of the cemetery, but after the expansion in the 1920s they now divide the old and new parts of the cemetery. The beautifully worked tombs of physician Ernst Donth and builder Konrad Randa are found in the new cemetery. The white plaque on the path from the Langer family tomb recalls Svitavy victims of the First World War. The tour of the cemetery can end at the path along the north wall of the old cemetery at the crucifix for the mass grave of 180 Prussian soldiers who died in the town cholera epidemic of 1866. Clerical graves and the graves of Redemptorists and Order of St. Vincent sisters are located in front of the ossuary.