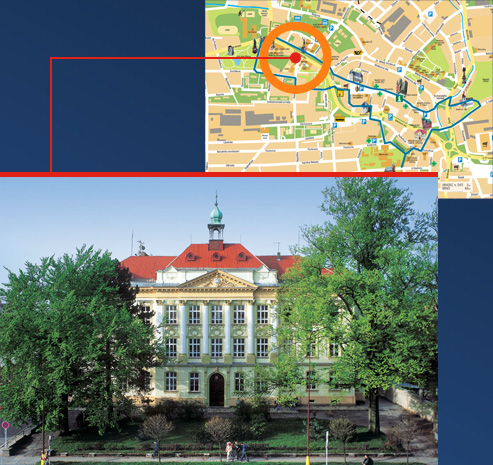 24
Technical secondary school
A decision was reached in 1895 to establish a secondary school. The school was to be a technical school and the first class opened the same year. At the beginning classes were taught at the orphanage; the new school building was opened on the outskirts of town in 1897..
The Neo-Renaissance school was designed by architect Josef Hudek from Vienna and constructed by Svitavy builder Julius Randa. The façade of the school was decorated by the sculptor Alfred Dresler of Brno. Along with the new school a botanical garden was planted on today's Richard Klouda Street and a gymnasium with an exercise grounds was built. The building was comfortably furnished for the period: it had its own source of water, was wired for electricity, and featured central heating. A gas line was installed in the school laboratories.
Numerous distinguished professors taught at the school, including botanist Alois Gamroth, historian Anton Mudrak, German and Czech linguistics professor Bruno Hroch, mathematician Franz Stenzl, physicist Karl Netsch, drawing professor Paul Schmeer, and Rudolf Pechhold, the creator of the cultural centre and archive in Göppingen. Oskar Schindler attended the school between 1920 and 1924. In 2003 the building was declared a landmark and in 2006 a commemorative plaque to Vincenz Sagner, known from Hašek's novel The Good Soldier Schweik, was unveiled on the wall of the school.