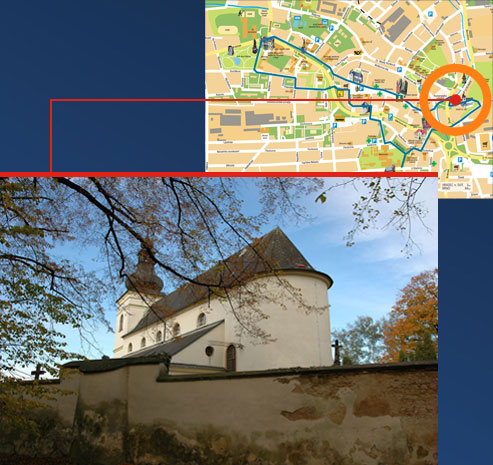 9
Church of St. Illya
The church was founded by Litomyšl Premonstratensians in the middle of the 12th century and in the spirit of the legend of St. Illya represented a refuge for pilgrims and merchants along the old trails.
The basilica style structure featured a high, independently illuminated nave and two lower side aisles. These ended in a semi-circular presbytery. The church was originally built of inexpensive materials, most likely tufa stone and wood. Thanks to its position on an elevated site on the left bank of the Svitava River, the church also served defence purposes.
Early Baroque reconstruction between the year 1679 and 1689 incorporated the original Romanesque basilica into a new church composition, which retained two side chapels dedicated to the Deceased and St. Nicholas. These chapels are attributed to the year 1664 and form a cohesive Early Baroque unit. The overall reconstruction work was completed in 1689 and the church was ceremoniously consecrated. The nave was raised and vaulted, a sacristy and oratory were added in 1726, and in 1738 the floor of the church was tiled. Galleries were built above the chapels; these were accessed by hidden side masonry staircases. On the west side of the building stands a square tower that was attached to the church through the reconstruction of the entrance vestibule. The church tower's cupola is the work of carpenter J. Krumwald from 1732. The roof of the church and tower was covered with wood shingles, which were replaced by slate following repairs to the building in the 18th century.
The church interior features Early Baroque furnishings from the 17th and 18th centuries. The dominant feature inside the church is the main portal altar from 1684; the painting of St. Illya in front of a hunting entourage is the work of Ludwig Geissler from 1737. The painting was renovated by Svitavy painter Johann Dittmann in 1843. A painting of the Virgin Mary from the end of the 19th century hangs in the altar extension, statues of Sts. Peter and Paul are on the sides of the altar, and the Archangel Michael among angels is above the altar. The Holy Trinity altar from 1746 by Svitavy sculptor J. Jahel and gilder J. Leikert is located in the presbytery. The northern Our Lady of Sorrows Chapel, known also as All Souls Chapel or Chapel of the Deceased, is decorated with stucco work by Baltazar Fontana of Brno, featuring skulls and crossbones. The masonry altar features the painting Souls in Purgatory Invoking the Eucharist from the first half of the 18th century.