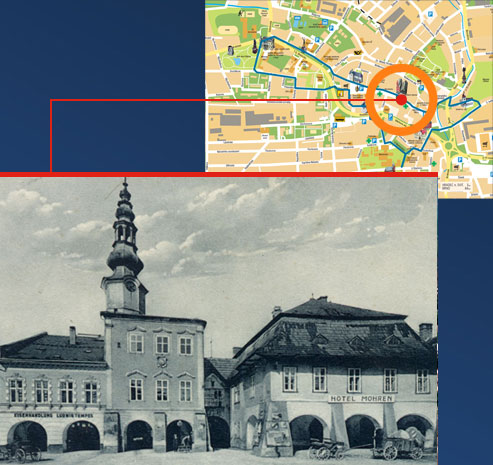 4
Old Town Hall
The town counsel originally met in the homes of the magistrates and mayors. A growing town administration agenda and attempts to achieve the greatest degree of independence led the town council to purchase a building on the town square.
The sale was made in the year 1538, with seller Michl Dittrich receiving 115 piles of Meissen groschen. The first reconstruction of the Renaissance building followed the town fire in 1590 and the appearance of the structure changed completely following the largest fire in town history in 1781. The oldest depiction of the town from 1742 shows a Baroque tower on the Town Hall. Extensive reconstruction work on the building was performed in 1849; the octagonal tower was rebuilt and the interiors were renovated in a Classicist spirit. The town symbol on the front of the building also dates to this period. The Town Hall is shrouded in legends – the star and half moon at the top of the tower cupola possibly dates to the 17th century as a reminder of the Turkish invasion of Moravia.
The Town Hall also originally housed the village magistrate's offices and later a hall of justice. The town savings bank was located in the Town Hall for a short time in the mid-19th century and the gendarmerie with jail was also on the ground floor of the building. The town government considered building an entirely new town hall at the end of the 19th century, but these efforts were never successful. In 1933 a new possibility of moving the Town Office to Langer Villa arose; the Old Town Hall was to serve for small administrative operations. There was even a plan to establish a town museum. During and after the Second World War a warehouse was established in the building to hold confiscated property; afterwards National Security Corps offices were located in the building. Today the Old Town Hall is used for commercial purposes.