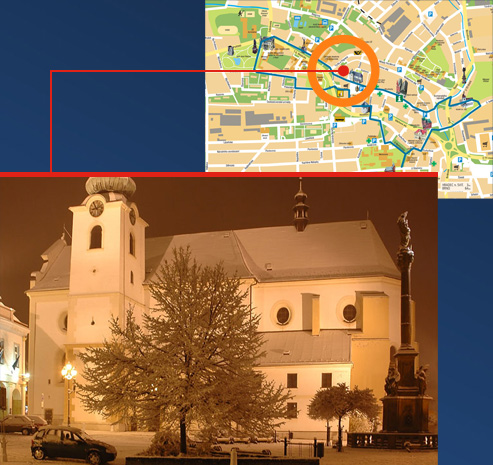 27
Church of the Visitation of the Virgin Mary
The original church, likely Romanesque in design, was created along with the new town around the year 1250 and was designated as the parish church of Svitavy. The church featured a main nave with two chapels in a cruciform plan and a presbytery.
The building also features Gothic elements such as a polygonal presbytery, load bearing pillars, and Gothic windows that were walled in at a later date. In town books the church appears under the name of Marian Church and the Church of Our Beloved Lord. In 1421 the bishop's chapter left Litomyšl for Svitavy out of fear of the Hussites and settled at this church. In this way it became a convent church. The Premonstratensians founded a hospital nearby and connected it to the church by an underground corridor. Between 1503 and 1781 the church was called Mariakirche or Frauenkirche. Prior to the town fire in 1571 the church had an organ and chimes with six bells; during the fire the bells melted completely. When the cupola was added in 1795 the tower had only a death bell and three bells from the Brno workshop of Master Klement Stecker. Two bells were recast during the 19th century. Following the fire in 1781 the church was rebuilt in the Baroque style. Extensive reconstruction work was performed in the years 1783-1795 and one year later the church was consecrated the Visitation of the Virgin Mary. The interior was refurnished and in 1797 a new organ by Ignaz Staudinger was added.
Today's appearance of the church is the result of reconstruction in 1993-1994 by Jan and Sabina Kratochvíl of Brno.