In 2003 the tower of the Marian church was opened to the public for views of the town square and the former town on the outskirts of Svitavy – Nové Město. A climb up a spiral staircase takes visitors to the former quarters of the town's bell ringer. His room houses a small historical exhibit on the local sacred buildings. You will learn details of the Church of St. Illya, the Marian church, and the Church of St. Joseph. Special attention is given to defunct landmarks like the Church of St. Florian, the hospital chapel, and the group of memorials and crucifixes in the Grove of Heroes. You can take a walk through the Svitavy countryside.









The villages of the Svitavy deanery contain small churches and chapels that round out the historic and sacred nature of the region. Three figures from a local woodcarver's nativity scene merit attention, as does the painting The Last Supper of the Lord by a local painter from the end of the 19th century. And then nearly one hundred steps lead you to the actual observation deck. The landings feature additional interesting information about the church – embrasures, a missal, old clocks and even some that still work. Your climb is rewarded with a bird's eye view of the town. And to help you become better oriented with what you see everything has been photographed, numbered, and described in the legend. You will find brief information on important local landmarks and sites that are tied to the history of the town.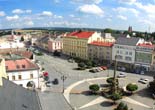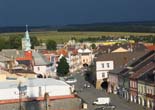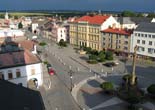 Information materials on the town, brochures, and fliers are available at the ticket desk.
Admission: CZK 10
Opening hours: June – September; Sat.: 9 a.m. – 11 a.m., Sun.: 3 p.m. – 5 p.m.; others times can be arranged with the staff.